You're (most likely) Not Paddling Your Standup Paddle Board Correctly
An easy stand-up paddle boarding guide for beginners.
It's undeniable: there's nothing like gliding across the glassy goodness of the Intercostal Waterway (Wrightsville Beach), Figure Eight Island or freshwater habitats of Wilmington.
At Cape Fear Paddle Boarding, we offer SUP fitness classes, tours, rentals and stand-up paddle boarding instruction; we've seen our share of paddle boarders' beginning blunders. To spread the stoke of SUPing over the sparkling sea, check out the most common SUP mistakes and learn what you should do instead:
1. Ignoring Mother Nature
Always check weather conditions before you decide to paddle out. "Glassy" conditions are ideal and early mornings are calmer than afternoons when water can get choppy as winds pick up. If strong winds catch you off-guard, lower resistance by laying down on your board with your paddle tucked under you and then paddle to shore with your hands. [Related: Check conditions at WB Live Surf].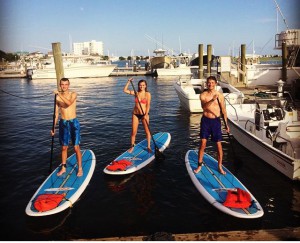 2. Improper Stance
Position yourself in the center of the board with your feet parallel in hip-width distance and your toes facing the nose (opposite end of fins). Keep your knees slightly bent, look to the horizon and you're good to go!
3. Short Paddle Grip
Short, broomstick-like grips on the paddle will literally get you nowhere. Always hold the paddle with one hand on the top of the T-shape with the other hand a shoulder-width distance down the paddle. P.S. Make sure the blade of the paddle slopes toward the nose and away from you.
4. Look Down = Fall Down
Looking down while in motion is a great way to get off-balance. If you want to look down, pause to fully enjoy the living, breathing marine eco-system that surrounds and supports you.
5. Bicep Overuse
Your goal is not to push your paddle through the water, instead pull your body towards the paddle after digging it in the water as far ahead as possible. This movement requires slight twisting and flexing of the core while your biceps and shoulders remain relaxed. [Related: SUP Fitness video].
6. Not Digging In
If you were rock climbing you would want a good grip to pull yourself onward. For stand-up paddle boarding, you want to fully immerse the paddle for a better "grip" so that you can move forward. Remember to switch sides every few strokes to keep moving on a straight path.
7. No Leash
Just use it. You'd be surprised how quickly your board could move away from you when the leash isn't strapped to your ankle in the case of a fall.
8. Belly Flopping
In our classes and tours, we teach paddle boarders how to fall off the board. If you feel a fall coming on, be sure to lean away from the board to avoid potential belly flops or other injuries.
9. Circle Struggles
You've paddled all the way from the iconic Motts Channel Marina to the salt marsh, now how do you turn around? Dig your paddle into the water and turn your mid-section towards the paddle. You can also turn by immersing your paddle by the tail and pulling the paddle up towards the nose, creating a reverse circular motion.
10. Paddle Board Abuse
Paddle boards are sturdy but are not built for collisions. Please steer clear of other vessels on your waterway adventures, keep track of your paddle and gently place your board onto the ground when you reach land.
---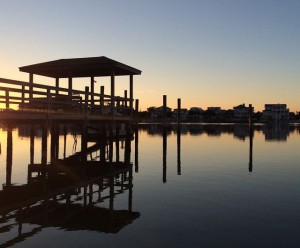 QUICK TIP: Rent a SUP board for a few days and paddle out at sunrise, you will never regret it!
---
Want to see what it's like to SUP at Wrightsville Beach and Figure Eight Island? Follow us on Facebook and Instagram. The water is waiting – book your tour, SUP Fitness class, or stand-up paddle board rental all from your phone or desktop with Cape Fear Paddle Boarding.
P.S. Not sure what to wear or what to bring for your SUP Adventure, click here.